The existential problem of global warming, as well as the urge to decarbonize the largest emitting industries, like agriculture, has brought to the limelight the need to develop the strategies that can be employed to understand the impact agriculture has on the environment.
This is the time to make agriculture more sustainable, not only to lower greenhouse emissions but also to promote as well as incentivize the transition from conventional agricultural practices like deep cultivation of the field, lack of crop diversity, and usage of synthetic fertilizers.
However, the problem also works in reverse. Agriculture today accounts for a major part of the climate problem as it generates 19–29% of total greenhouse gas (GHG) emissions. Without any action plan, this percentage is set to rise substantially, while other sectors are reducing their emissions. Additionally, 1/3 of food cultivated globally is either lost or wasted. Addressing food loss and waste today is critical to meeting climate goals as well as reducing stress on the environment.
While the advancements in the standard framework for the emissions from sourced components were a crucial step toward industry-wide approach standardization, this policy, however, does not lend itself to estimate improvement. It is not granular enough as it does not track the changes in practices implemented on farms.
Read more: The Sustainability Investments Revolution & its Impact on Climate Targets
However, what was previously not possible due to the lack of data and visibility is becoming attainable due to a range of technologies that are making monitoring agricultural practices and measuring their environmental outcomes possible on a global level. These technologies are not only captivating but are emerging as the key enablers for the next generation of climate-smart agriculture.
Farming, in general, is known to emit significant amounts of nitrous oxide and methane - two potent greenhouse gases. Due to this reason, climate-smart agriculture, or CSA, is gaining significance all over the globe in order to satisfy the set of climate challenges while generating food and energy in an environmentally sustainable manner.
What is Climate-smart Agriculture?
Climate-smart agriculture, or CSA, as per the Food and Agricultural Organizations (FAO), is defined as increasing agricultural production in a sustainable manner by adapting to and constructing resilience to the climate and reducing greenhouse gas (GHG) emissions. CSA is a strategic approach to increase technical, policy, and investment in the environment to achieve sustainable agricultural growth as well as food security in the face of the climate change crisis.
Experts are of the opinion that a range of techniques can be employed to fulfill the goals of climate-smart agriculture. Enhancing the use of inclusive renewable energy sources for agriculture, like windmills, solar panels, and bio-energy-powered water pumps, can help in building energy-efficient food systems.
Resource-conserving technologies or RCTs like zero tillage allow farmers to cultivate wheat fairly shortly after paddy or cotton produce can help in preventing warmer temperatures that are damaging to grain development.
Reports have shown that the rise of recently developed variants, including heat, drought, and salinity tolerance is also an enhanced CSA technique. It is critical to recognize territories and crops that are vulnerable to climate change crises. So that these crop varieties can be relocated to a more suitable area, weather forecasting, along with early warning systems, can also assist in reducing the risks of climatic change. Administrators and scientists can benefit by employing information and communication technology ICT in the organizing of emergency plans.
Computer-aided crop growth methods can support as well as help to determine the potential impact of climate change on potential agricultural output. It can also be used as a vital resource for the innovation of climate-smart agriculture and mitigation strategies.
Read more: The Fight Against Greenwashing: Are Money Funds the Next Target?
Crop models qualify for the variability of environmental aspects, including water system and temperature, and they also simulate crop response through a combination of projected growth parameters like agricultural output. The climate-smart agriculture solutions strive to achieve three significant goals -
increased resilience

reductions in emissions
Achieving the Triple Win with Climate-smart Agriculture
Climate-smart agriculture, or CSA, offers an integrated approach to managing landscapes like cropland, forests, and fisheries, as well as to addressing the interlinked challenges of food security and the accelerating climate crisis. CSA seeks to simultaneously achieve the following outcomes: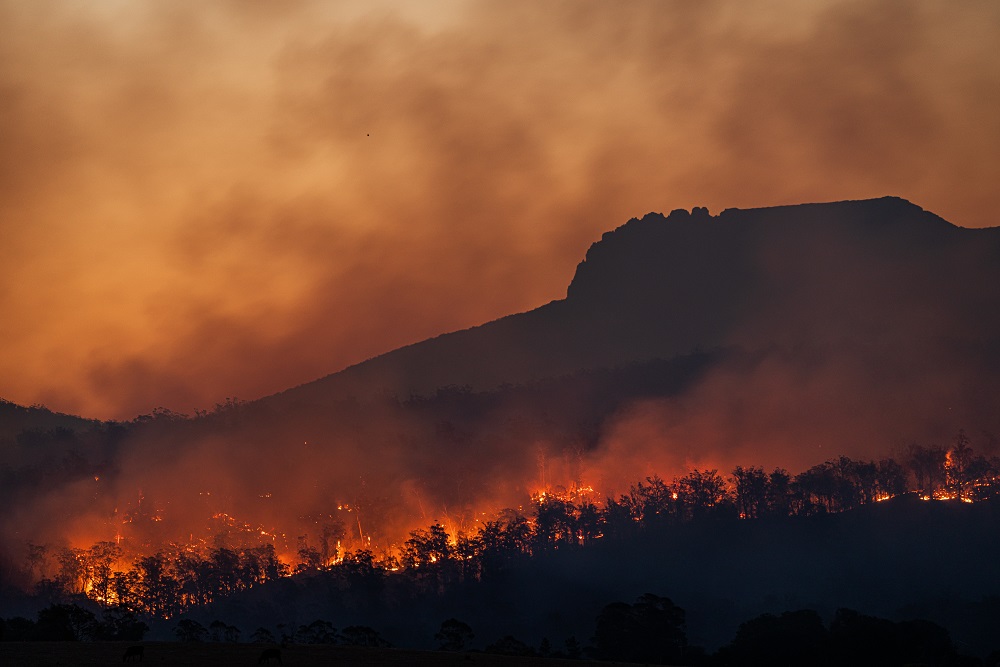 Improved productivity: Production of better food will help in improving nutritional security as well as boosting incomes, specifically of 75* of the world's poor who reside in rural areas and rely on agriculture as their source of livelihood.

Increased resilience: By reducing vulnerability to drought, pests, diseases, and other climate-induced risks and shocks, along with the improved capacity to adapt and grow in the face of longer-term stresses like shortened seasons and erratic weather patterns, will act as an added support to the farmers.

Reductions in emissions: Pursuing lower emissions for each calorie or kilo of food produced will help in avoiding deforestation from agriculture, along with identifying ways to absorb carbon out of the atmosphere.
Read more: TCFD: Exploring the New Regulations for Reporting Climate-Related Data
Reducing the Levels of Emissions
Companies working to reduce their emissions were employing general methods to account for those emissions, thereby attributing them to a distinct type of commodity sourced from a certain area; let's consider soybeans grown in Brazil. To yield an emission factor of soybeans in Brazil, a fixed set of parameters reflecting emissions from an average farm production would have been used. New innovative tools are enabling leading agricultural producers as well as food manufacturers to gain visibility into the circumstances and their impact on global food production. These technologies include:
Climate-smart agriculture explicitly seeks efficiencies and trade-offs between modification, food security, and mitigation. Several farming methods have been recognized to contribute to achieving both of these goals at the same time. These emissions can be estimated on a ton of CO2 of element basis and would be static irrespective of the weather conditions or yields and non-location-specific, meaning - the differences in management in neighboring farms or those in distant parts of the country could not be captured with this static emission factor method.
Key Highlights
The food security challenge is likely to become more difficult, as the world is still required to produce about 70% more food by 2050 to feed an estimated 9 billion people.

Agriculture accounts for almost 73% of India's methane emissions.

Farming, in particular, is known to emit significant amounts of nitrous oxide and methane - two of the most potent greenhouse gases.

Experts are of the belief that a range of techniques can be employed to meet the goals of climate-smart agriculture.
Read more: Green Finance: The Next Step to Align India's Climate Priorities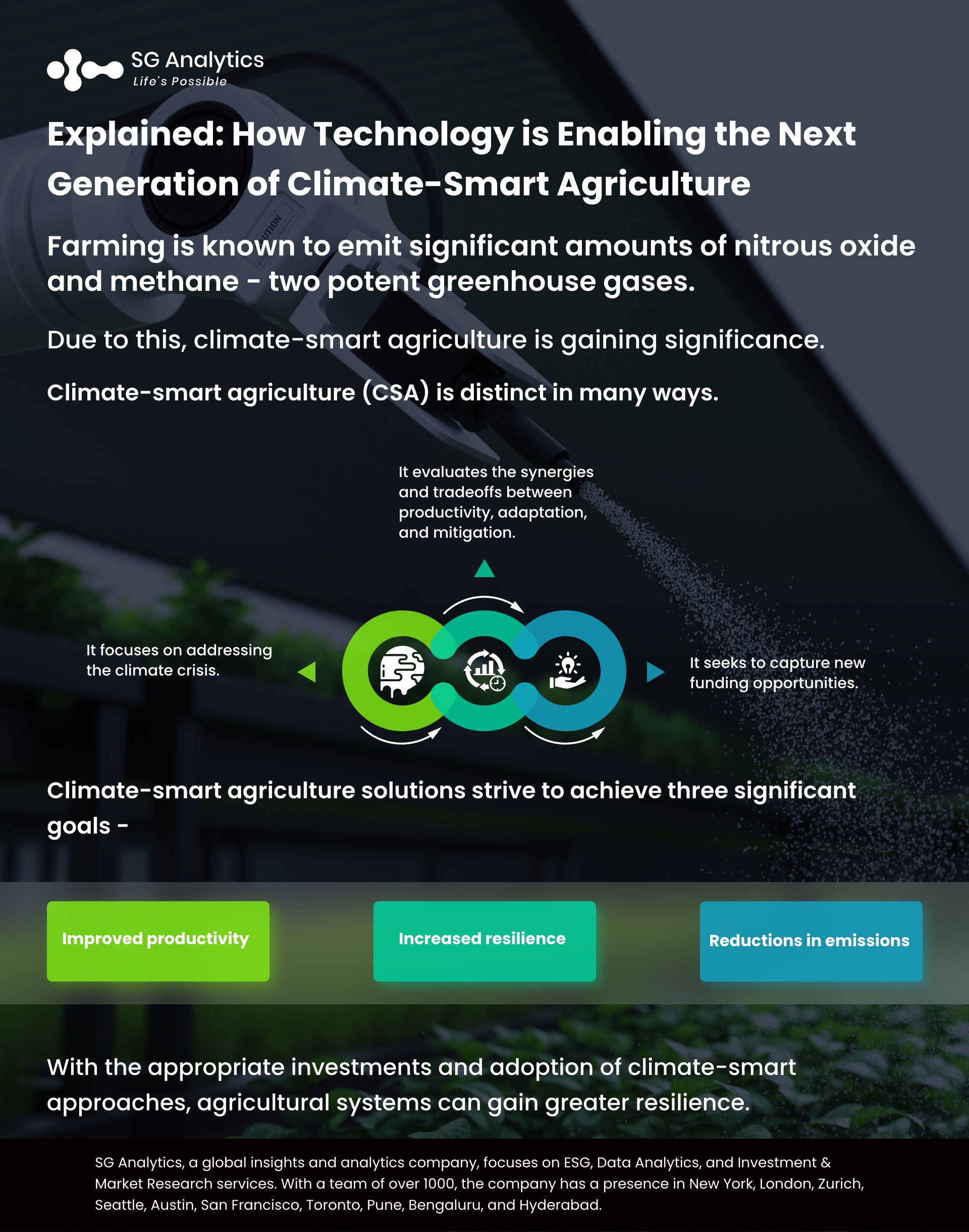 To Sum Up
Like many industries, agriculture is also seeking to decarbonize rapidly and at a scale. This is where technology comes into the limelight. Tech innovations like satellite imagery, big data, and impact models are uniquely being positioned in the framework to rapidly accelerate investments in order to measure and monitor the global food systems. Technology leaders today have a few options for getting started with these tech solutions in their organizations. They need to choose between investing in their in-house development of the solution or accessing it through a third-party provider.
Built on existing knowledge, technologies, and sustainable agriculture principles, climate-smart agriculture is distinct in many ways.
To begin with, it explicitly focuses on addressing the climate crisis.
Secondly, smart agriculture technology systematically evaluates the synergies and tradeoffs that exist between productivity, adaptation, and mitigation.

Lastly, climate-smart agriculture seeks to capture new funding opportunities to seal the deficit in investment.
With the appropriate investments and adoption of climate-smart approaches, agricultural production systems can gain a greater resilience that is vital in today's changing climate crisis and disrupted food supply chains.
These smart agriculture solutions are putting the limelight on the importance of sustainable agriculture practices, thus enabling the agriculture sector to lead through a more targeted adoption and implementation of programs to enhance the resiliency of global food systems.
With a presence in New York, San Francisco, Austin, Seattle, Toronto, London, Zurich, Pune, Bengaluru, and Hyderabad, SG Analytics, a pioneer in Research and Analytics, offers tailor-made services to enterprises worldwide.
A leader in the Technology domain, SG Analytics partners with global technology enterprises across market research and scalable analytics. Contact us today if you are in search of combining market research, analytics, and technology capabilities to design compelling business outcomes driven by technology.