Even since the advent of the COVID-19 pandemic, most important work-related debates have stuck on repeat. Many senior executives continue to consider that working from home is tantamount to pretending to work, while some remote-work enthusiasts continue to think that they have an absolute right to work where they want to. The result, however, is - a never-ending cycle of get-back-to-work memos and accumulating problems.
With businesses still striving to address these big-picture challenges, managers who oversee day-to-day operations are struggling through a chaotic middle ground. Every day, they are tasked with guiding different types of employees in a new work environment that affects individuals differently.

Today the conversation between business leaders and employees about the long-term hybrid work model is perceived as a complex one. Organizations are trying to find answers to some critical questions:
How is in-person time best used?

What tools can be employed for people to succeed, wherever they are?

How can they build a sustainable hybrid system?
However, hybrid work is not just a one-size-fits-all proposition. With this new world here to stay, businesses need to revolutionize their work distribution channels to drive their fundamental operations with the ubiquity of the internet.
Read more: Reenergizing the Workplace: Ways to Manage and Overcome COVID fatigue
After adjusting in the last two years with the remote working setups, businesses are slowly transitioning to a hybrid work model. Following considerable compromises between the flexibility of remote work and in-office work, the hybrid model is currently being rolled out in almost 43% of offices across major cities. It has also been received positively by both - employers as well as employees thus far. That said, the hybrid model still is a relatively alien concept in the workplace. While most assume that a hybrid work model is quite straightforward, there are actually multiple ways to practice the hybrid work plan.
The questions many organizations are looking to find an answer to are:
How can they make sure that their most satisfied employees stay that way, and how can they tap into their enthusiasm to support their colleagues see the benefits of a hybrid structure?
Here are a few visions businesses can incorporate:
Empowering employees to keep working in a way that supports their natural products - like using centralized tools such as Google Drive for easy collaboration and shared calendars for the coworkers to see their schedules and availability.

Inviting the employees to share their best practices company-wide by designing and moderating Google Spaces dedicated to hybrid work tips, work-from-home hacks, and much more.

Keeping the employees engaged through short Google Meet check-ins on a quarterly basis. The agendas of the meeting can focus on how hybrid work practices are functioning and what more improvements can be made.

Offering support by ensuring the employees have the right technology if they work fully off-site.
Discovering the Different Types of Hybrid Workers
The most prominent problem with flexible working is the multitude of demands it imposes on managers as well as the employees. The flexible work model supersized many tasks of the management team. However, with the hybrid work mode, there is this question of motivation: How do they encourage the employees whom they see episodically rather than routinely?
In a recent survey, Economist Impact categorized employees into four different segments based on their relationship with the hybrid work model:
Evangelists
Pragmatists
Fair-minded
Undecided
Read more: Navigating the Great Resignation: Types of Talent that are Driving it
Interestingly, the employees did not fall into these categories based on neatly predictable criteria such as role, seniority, or industry. Instead, the primary driver was - how hybrid work is affecting the everyday lives of the employees.
Types of Hybrid Workers
The common types of hybrid model workers that can help enterprises better understand the concept as well as determine which approach is the best to achieve the company as well as workforce goals are as follows. Let's have a look at the distinct demography.
The Evangelist of the Happy with Hybrid Model Employees
As the name suggests, the evangelists are the most optimistic type about hybrid work. They are typically satisfied with the policies, technology, and social dynamics that are already in place. Many are open to working fully off-site. These employees operate as the central and can be recognized through their enthusiasm, productivity, and loyalty to the hybrid work model.
The Pragmatists or the Optimistic - Ones who are facing challenges with the current model
The largest segment of employees identified by Economist Impact were pragmatists. They can be defined as a group who are optimistic about the hybrid type of work but are experiencing significant challenges with it. While they want the hybrid to work, they also want to be a part of making it work but are of the opinion that it is not working well. Pragmatists feel that the new organizational policies do not incorporate enough employee input and are of the opinion that these policies are unfair.
Pragmatic employees are also concerned about blurring work-life boundaries. This demographic comprises workers who have less location and time flexibility and are not experiencing significant benefits of a flexible work environment.
Read more: Tech Forecast for 2022: Trends That Will Shape the Technology Landscape
The Fair-minded or Feeling good/ Hoping for Continued Cultural Change
Showing considerable concerns about employees' wellbeing, fairness, and inclusion, the fair-minded demography was in favor of the overall positive impact of hybrid work on their lives. The fair-minded showed willingness towards the current hybrid scenario and where the situation was going. Over the long term, they were hopeful that the hybrid work model would offer flexibility in their location as well as work schedule. They believe that better communication coupled with collaboration will help strengthen a work culture of trust in the workplace.
The Undecided or Craving connection and direction.
The undecided represented the smallest number of respondents in the survey. They were recognized as a group that required significant support. Why were they referred to as undecided? Because they were yet to experience the significant benefits of a flexible or hybrid work environment. They were the ones who were more likely to be at organizations that have not issued formal hybrid policies, and hence they were working in uncertain environments. This group reported higher rates of technological challenges, suggesting that they were not well equipped with the right tools to connect, collaborate, as well as communicate remotely with their team.
Key Highlights
The hybrid work model cannot be perceived as a one-size-fits-all proposition.

Today, the focus of the discussion is shifting from the ideological to the practical — from the desirability for a change to the question of how organizations can manage distributed operations.

Harvard study highlighted that output and creativity thrive in split work.

Instead of organizations trying to block an unstoppable transformation in the distribution of work, they should focus on managing it better.
Businesses need to go further and build new social practices designed to deal with the digital overload.

The most obviously perceived problem with the flexible working/ hybrid working model is the multitude of demands it imposes on the managers.

A quid pro quo for flexibility can be to have them take a more active role in managing the organization.
Read more: Data-Centricity: The New Roadmap to Driving Enterprises in a Changing World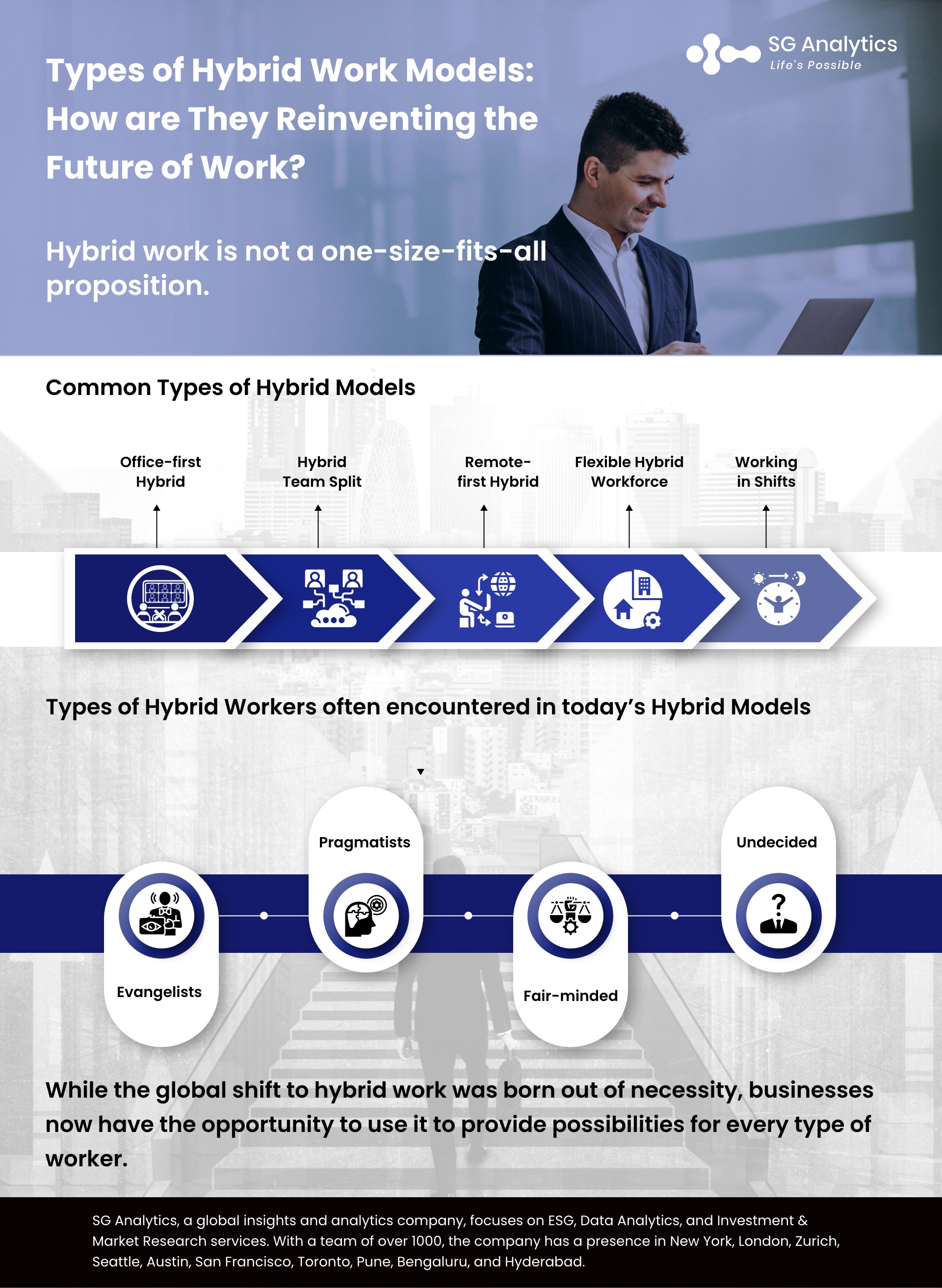 Making the Hybrid Team Management Work!
Today, it is paramount for leaders to understand and acknowledge their team members' different understandings of hybrid work. As a leader, are you aware of which of the four types of your employees fall into?
Business leaders, as well as managers, need to take the time to engage with them and learn their preferences. This will enable them to shape policies while also making decisions that help the organization get the job done. Hybrid work arrangements will allow workers to capture the benefits of a productive and enjoyable workplace, exactly like those workers who are working in the office. Studies have consistently suggested that intermediate levels of WFH have resulted in both enhanced novelties of work products as well as greater work-related communication.
A thoughtfully planned and managed hybrid work structure that adapts to individual requirements, connects distributed workforces, and strengthens the organization is the need of the hour. The key to hybrid work arrangements - is organizing things so that hybrid teams can work in unison with the office team, thus preventing the problem of workers commuting to spend only half their day on Zoom calls with remote colleagues.
While the global shift to hybrid work was born out of necessity, businesses now can use it to provide possibilities for every type of worker.
With a presence in New York, San Francisco, Austin, Seattle, Toronto, London, Zurich, Pune, Bengaluru, and Hyderabad, SG Analytics, a pioneer in Research and Analytics, offers tailor-made services to enterprises worldwide.
A leader in the Technology domain, SG Analytics partners with global technology enterprises across market research and scalable analytics. Contact us today if you are in search of combining market research, analytics, and technology capabilities to design compelling business outcomes driven by technology.