Organizations globally are leveraging data and analytics (D&A) for enhanced business performance. Today, data-driven organizations are 23 times more likely to acquire customers and six times as likely to retain customers as per the report shared by the McKinsey Global Institute survey. Many companies, despite being data-rich, are deficient in deriving insights. One major reason for the poor success rate of Data and analytics strategy implementation is the lack of stakeholder buy-in, i.e., poor user adoption.
When the organizational data and analytics (D&A) efforts do not align with the organization's business goals, the big-ticket investments and actions go down the drain and hamper the business momentum. Organizations venturing into Data and analytics without any data strategy often end up with results that are equally disastrous.
What is a Data and Analytics Strategy?
Organizations today are increasingly investing in cloud technology platforms to enhance their use of data and analytics. However, many are finding themselves grappling with higher-than-anticipated costs and are exploring ways to maximize their investments.
A data analytics strategy is a long-term plan that enables businesses to define the technology, processes, and rules required to manage an organization's data assets. Businesses today have large volumes of raw data but need to incorporate a well-thought-out data management and analysis framework to use this information for informed decision-making.
With a strong data analytics strategy, organizations can outline their long-term vision for collecting, storing, and using their data.
Importance of Data and Analytics Strategy
Building a strong data analytics strategy is critical to stay relevant, competitive, and innovative in the constantly changing business landscape. Organizations must collect, organize, and act on the collected data to meet their business goals and unlock new value, to achieve:
Operational efficiency

Strategies optimization processes

Make faster decisions

Increase revenue streams

Enhance customer satisfaction
A strong data strategy helps in gaining a competitive advantage as it assists businesses in aligning their data management with business strategy and data governance.
Steps to Develop a Data and Analytics Strategy
The following steps can be incorporated to create an actionable data and analytics strategy.
Drafting a proposal: The first step involves the creation of a proposal that includes the advantages of having a coherent data and analytics strategy. The recommendation should include:
Economic benefits of the strategy

Competitor analysis

Business objectives and goals

Data strategy roadmap
Building a team: Finding the right team members who will help in bringing a diverse range of viewpoints is critical for success. The team will be responsible for the following:
Resource allocation

Setting and improving policies

Dealing with data-related crises, if any
Optimizing the data architecture: A strong data strategy mandates the right tools and technologies to succeed. An organization needs to review its existing data infrastructure, analyze how different teams use data, and identify any underlying gaps that need to be resolved. This step involves making technology-centric decisions based on the requirements, which include:
Data volume

Data quality and analysis

Security and Compliance
The ultimate goal for businesses is to create a data strategy that makes their data accessible, shareable, and actionable with the right security controls.
How can enterprises improve their adoption of Data analytics strategy and deliver results?
Quite like AI and Big Data, data strategy is a buzzword currently making rounds in the industry. A data strategy is an organizational plan devised to achieve one or more long-term goals under uncertainty. Similarly, it is a plan with a set framework that helps achieve business goals. Data strategy assists in better decision-making by incorporating data.
What are the elements of a winning data and analytics strategy?
Below are the top key elements of an effective data strategy framework businesses can undertake to increase their adoption of Data and analytics to improve business performance.
Read more: A Brave New World – Fascinating Real-Life Applications of Data Analytics
Identifying Fundamental Business Goals
A data strategy is a framework crafted in service of long-term business goals. There has to be absolute clarity on the organizational vision and key priorities. Business goals are aimed to transform lives and offer life-changing solutions to people. To review and internalize the organizational strategy, business leaders should be aware of "what the long-term business goals are?"
Building a Data & Analytics Vision
Once the business goals are internalized, finding how data and analytics can help achieve them is the next step. This vision for data strategy helps in guiding the choices of the stakeholders as well as the selection of initiatives and validating the intended outcomes. It helps focus on finding solutions to big queries that can later advance and impact organizational decisions.
Recognizing Target Stakeholders
While determining business objectives, it is vital to be aware of whom the organization wants to foster through the data initiatives? While it is compelling to serve everyone, this is not a realistic scenario. By picking a set of target departments and roles, business leaders can plan and accelerate development to achieve targeted business growth.
Devise Strategic Initiatives
Once the industry leaders have determined their destination for achieving target growth, it is time to explore big initiatives that will assist them in getting closer to their goals. By incorporating strategic programs, leaders can help the chosen stakeholders to achieve their business objectives. It is vital to start with the question that the leaders are trying to answer and then work back to identifying and implementing those solutions.

Set Benchmarks of Success
For every strategic initiative, it is critical to question - what will succeed in the set initiatives look like? Leaders or stakeholders often pick initiatives based on the urgent requirement rather than the impact it is likely to create. By documenting the desired outcomes, leaders can validate whether the chosen initiatives were the most influential. By setting key performance indicators (KPIs) and objectives & key results (OKRs), business leaders can track their progress with their business goals.
Sources of Funding & Allocation
After gaining clarity on the initiatives and their desires outcomes, the next step is to recognize and identify - who will foot the accounts for these programs. Often organizations construct big strategic plans but shortly realize the unavailability of sources of funding to secure the needed initiatives. To tackle these crises, some firms assign a fixed percentage of their departmental budget to the Data and analytics initiatives, while others allocate a portion of their centralized technology spending for these agendas.
Read more: Data-Centricity: The New Roadmap to Driving Enterprises in a Changing World
Top Enablers
While strategic plans are easy to make, they are tough to execute. For industry leaders to manage this successfully, they must be aware of the strategic ways to support the efforts. It is critical for them to spot tailwinds within the organization and capitalize on them over the long run. While an innovation-friendly culture might see lower resistance to user adoption, leaders should build a good strategy that helps in answering the why, what, and how questions raised by the employees.
Tackling the Challenges
Tech-savvy leaders should identify the tailwinds, as well as watch out for the likely headwinds. Identifying the biggest roadblocks will help in planning ways to mitigate them. Articulating the backing needed with the organizational data strategy is an immaculate way to ensure the necessary resources. While organizations may vary in the sophistication and maturity of tech implementation, this holds power to hamper rollouts. Hence it is vital for leaders to factor in those roadblocks while planning initiatives.

Building Capabilities
While incorporating the data and analytics strategy, industry leaders must invest in capabilities across people, processes, and technology. This is vital for building a data strategy execution muscle. To integrate the Data and analytics initiatives, it is vital for employees to be aware of the following-
How to onboard users?

How to rewire business processes?
How to strategize a technology strategy that bears the Data and analytics fruits?
Organizations should make a critical investment in building competencies among employees, adopting new tools, and helping their teams to keep an open mind to experiment.
Governance Plan
To ensure that the data & analytics strategy is implemented throughout the year, leaders must build mechanisms to track and review the outcomes from Data and analytics. It is vital to plan and review the progress not just of business projects but also of tech initiatives, including platform upgrades and upskilling. Organizations should set up a steering committee to review the progress of programs as well as validate outcomes.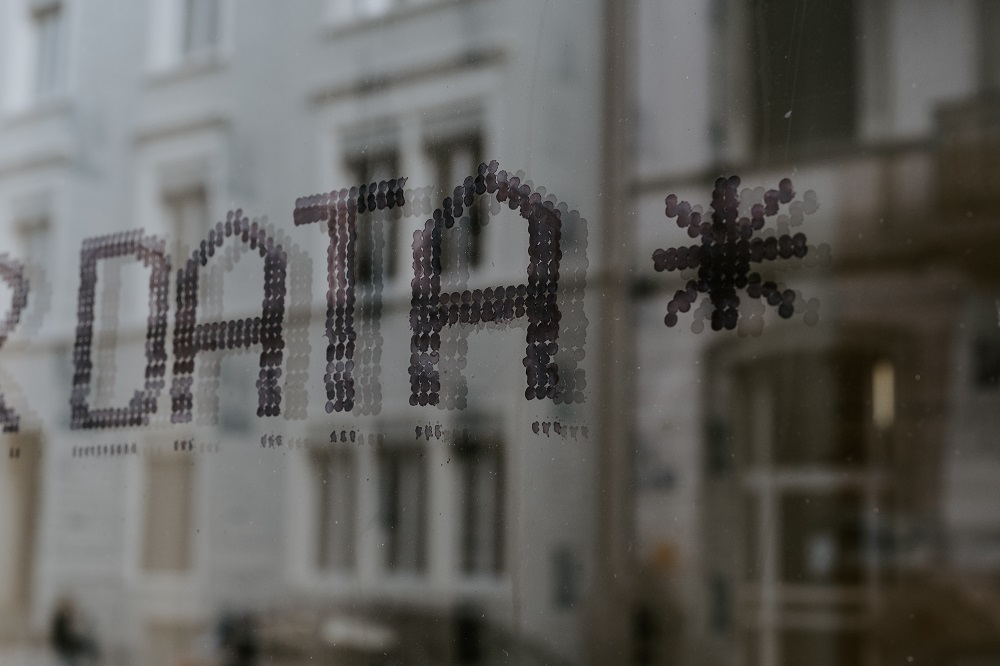 Benefits of a Well-executed Data & Analytics Strategy
A well-planned data strategy provides numerous benefits for an organization. It serves as a framework for collecting, processing and analyzing data to achieve business objectives. Let's explore some of the key benefits of a data strategy:
Improved Engagement: When data is used effectively to support business decisions, it helps in increasing employee engagement. A strong data strategy helps build a strong foundation for strategically leveraging data, thereby empowering employees to take ownership of data-driven decision-making.

Maximum Flexibility: A data strategy offers the right framework for collecting, storing, and processing data, thus assisting organizations to adapt to changing business requirements and seize new opportunities for growth. Businesses can gain agility and enhance their ability to thrive in dynamic market conditions by establishing reusability and scalability in the data ecosystem.

Cost Savings: Organizations can witness cost savings by optimizing the use of data and analytics through a strong data strategy. By reducing reliance on ad hoc efforts and designing standardized data assets, organizations can reallocate their resources to more value-added activities.
Organizations can make the most of their data assets and drive business growth with a well-planned data strategy.
Data Strategy: What Problem Does It Solve?
An effective application of a data strategy within an organization helps in aligning the organization's vision with a single goal or a single set of guiding behaviors. A vital part of the strategy is to define the target state. This helps to set the background for where an organization wants to end up once they have implemented the data strategy. The strategy should be reworked over the course of a few years as things change at a faster pace in the world of data. In addition, the strategy should also include capabilities for:
The strategic vision should align with and be supportive of the broader organizational vision, mission, and goals.
Progressive data and analytics (D&A) leaders are diverting the discussion away from tools and technology and aiming it toward decision-making to enhance business competency. While this evolution will take time, the D&A leaders are already in the best position to help direct and lead this change.
Read more: The Science of Music: How Big Data Is Transforming the Music Industry?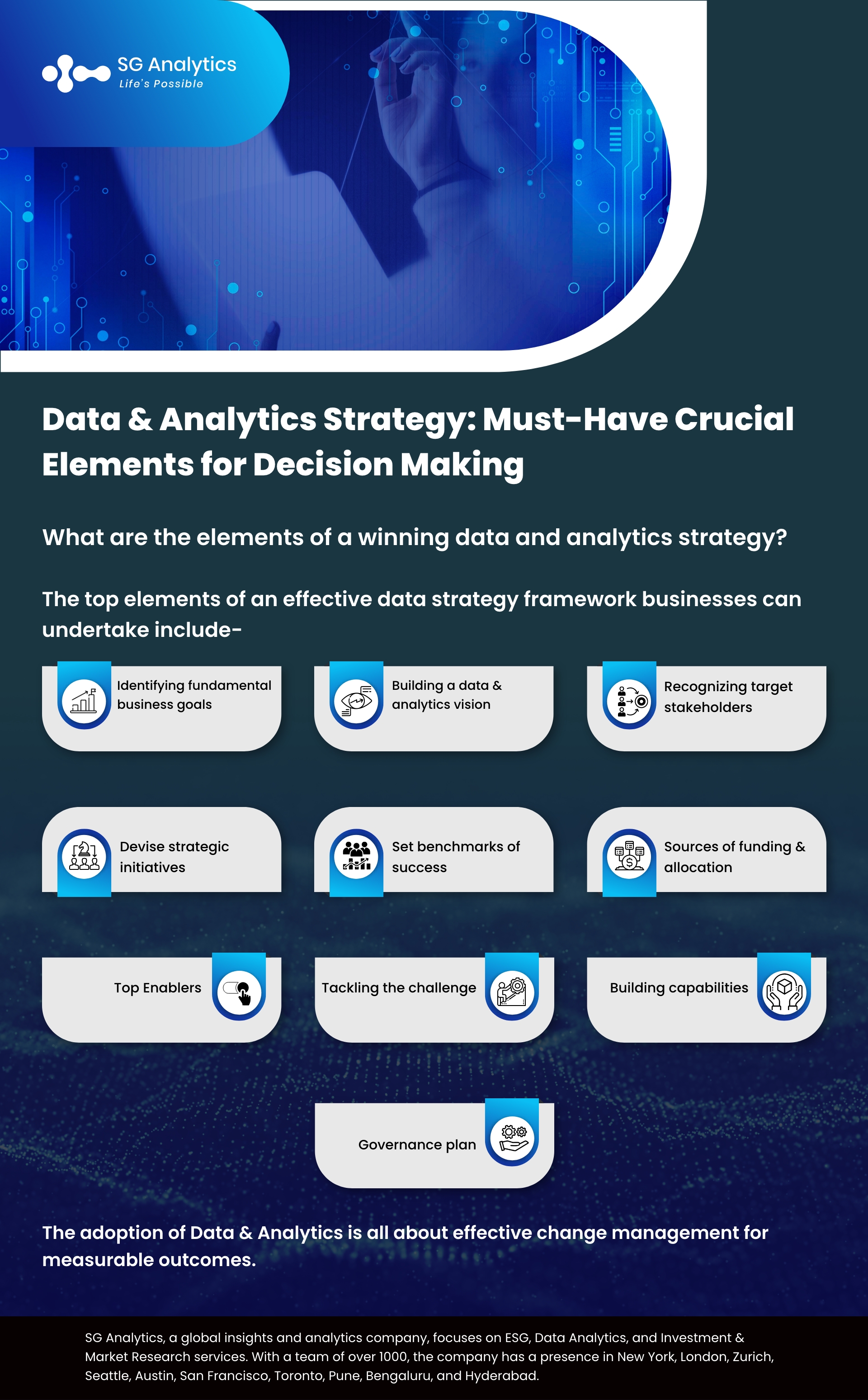 How to Execute an Effective Data Strategy Framework?
Business leaders or executives play a crucial role in the crafting and culmination of an organization's data strategy. Leaders are now striving to define the most vital business problems to solve and set measurable goals for the Data analytics strategy. To cultivate an environment that aligns with strategic decision-making, industry leaders are leading by example and demonstrating data used to make critical decisions.
While bringing in a cultural shift with data is the need of the hour, it is easier said than done. Data science helps organizations in seeing the possibilities and the potential for impact. An effective data and analytics strategy is likely to pave the way for meaningful execution.
The adoption of Data and analytics is all about effective change management for measurable outcomes. Adoption strategies should focus on the audience as well as the way business stakeholders employ data, algorithms, and assumptions to derive insights and business objectives.
With the world advancing towards a digital and data-centric economy, the right Data and analytics strategy will help transform data into a business asset by offering the desired insights for sound decision-making.
With a presence in New York, San Francisco, Austin, Seattle, Toronto, London, Zurich, Pune, Bengaluru, and Hyderabad, SG Analytics, a pioneer in Research and Analytics, offers tailor-made services to enterprises worldwide.
A leader in Data Solutions, SG Analytics focuses on leveraging data management and analytics and data science to help businesses discover new insights and build strategies for business growth. Contact us today if you are looking to make critical data-driven decisions to prompt accelerated growth and breakthrough performance.
About SG Analytics
SG Analytics is an industry-leading global insights and analytics firm providing data-centric research and contextual analytics services to its clients, including Fortune 500 companies, across BFSI, Technology, Media and entertainment, and Healthcare sectors. Established in 2007, SG Analytics is a Great Place to Work® (GPTW) certified company and has a team of over 1100 employees and has presence across the U.S.A, the U.K., Switzerland, Canada, and India.
Apart from being recognized by reputed firms such as Analytics India Magazine, Everest Group, and ISG, SG Analytics has been recently awarded as the top ESG consultancy of the year 2022 and Idea Awards 2023 by Entrepreneur India in the "Best Use of Data" category.