Today, data is more pervasive than ever. However, taking advantage of its full potential mandates creativity and conviction. Data leaders are now navigating through an ever-growing pool of internal and external data sources to curate strategy and direction in this increasingly data-rich marketplace.
Many enterprises, even today, are skeptical of bringing in the data-first culture. Plus, it is not a matter of just bringing in the data if the organization's culture is not ready to function in a data-driven way. A recent survey discovered that almost 57% of financial institutions are not as far along as they want to be when it comes to digital transformation, for they are not handling the data in the most sensible way.
While previously, businesses were focused mostly on business intelligence, today, data leaders are striving for real-time decisions and predictive models to keep the organization ahead. However, to reach this position, the data strategy must-
specify the right approach to make sense of extensive amounts of data

align the data with the business strategy

build solutions that traverse the entire organizational operations
Businesses need to empower their people and define use cases that fulfill the business needs, ranging from traditional and operational analytics to data science, IoT sensor data, and new product development.
Read more: It's Time to Put Marketing at the Data Table. Why?
Creativity and innovative decision-making hold high stakes for success. However, to fully realize the data potential, it is important to recognize the vision, persuasion, and support. The following seven-step framework — ingrained with insights from industry data leaders — will assist businesses in designing and implementing the data strategy along with making the most of the teams, talents, and strengths.
Develop the right data strategy that understands as well as highlights the business objectives and identifies the most compelling use cases.
Assess the current state to surface as well as dissect pain points to identify blockers and gaps.

Map out the data strategy framework to define the data's target state.
Establish controls to outline to navigate the real-world scenarios.

Revisit the extent and approach for effective data governance.

Design integrated solutions to set the sprint cycles

Scale the team and processes to communicate results for maximum visibility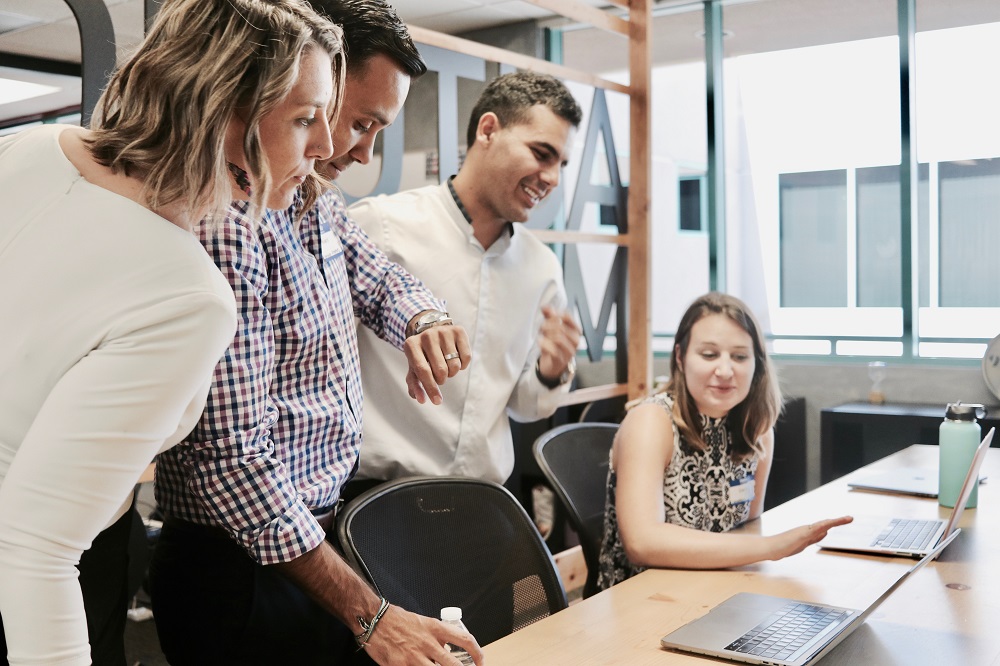 Building and Sustaining a Data-first Culture
What does it take to construct and sustain a data-first culture? Today the challenge goes beyond data management and more into adopting a data-driven culture that requires both executive and employee acceptance of data analytics. This is a challenge that emerges in countless industries.
The most compelling voice in the data analytics revolution, Thomas Davenport, has clarified the essence of a data-first culture. An author affiliated with MIT, along with Babson College, Davenport, has witnessed the uptake of data-driven approaches in surveys he has conducted over the years. Studies have shown that over the years, chief financial officers (CFOs) have not successfully adopted data analytics to understand the drivers required for their financial and operational performance. According to him, a data-first approach can be interpreted as 'having a heat-seeking missile approach to data analytics as well as AI.'
Read more: Data & Analytics Strategy: Must-Have Crucial Elements for Decision Making
Which Components Constitute a Well-functioning Data-First Culture?
Understanding the power of data & analytics and how they can be effectively employed in the business
There is much evidence that data and analytics decisions are getting a whole better than decisions made based on intuition, as they are less subject to bias. The bias in AI decisions is far easier to address compared to the bias in humans. By closely monitoring performance drivers along with analytics, organizations can create a data-first culture framework that emphasizes the need to measure what's happening in the organization.
Understanding and accepting the limits of data & analytics
Today CEOs who are promoting a highly analytical framework are accepting the idea that their organizations are data-oriented. However, leading tech organizations are still comprehending that there is a place for non-data-based decision-making. However, it is vital to understand that if organizations do not have data, they still have to plan. At the same time, the most data-driven enterprises are likely to shift into reverse, depending on who is leading the effort.
Continually familiarizing executives and employees with the advantages of data-first strategies
It is vital for businesses to push hard on the idea about the decisions they are going to incorporate based on data. A good leader is someone who relies on data rather than just their own experience and intuition. They are someone who encourages the rest of the organization as well. It is important for leaders to work on the day-to-day behaviors of the organization, as well as try to persuade executives within the organization that a data-first work culture would help them grow.
Read more: What Is Data Democratization? How is it Accelerating Digital Businesses?
Putting individuals in charge and making it everyone's responsibility
Today, more and more organizations are employing chief data officers or CDOs - where many are technological in scope while others work in a data security-oriented manner. Organizations today are in need of strong partners on the business side, preferably a CEO who understands the significance of integrating data-first strategies. By getting everybody involved in it, organizations can promote a pervasive data culture.
Implementing humility practices
One of the significant elements of data orientation is that organizations can communicate that they are not aware of the answer until they gain insights from the data. Every organization relies on data to make an effective decision. If they believe in data, then they are likely to also believe in circumstances where their prediction can go wrong and where executives will have to admit when they were wrong.
Moving Beyond - The Rise of Data-First Strategy
Integrating emerging technologies and systems empowers organizations to become more automated, data-driven, risk-tolerant, as well as secure. It is how businesses today are becoming more profitable. It is vital to consider how much of an employee's time is squandered in the face of outdated data ecosystems and management practices. Research suggests that up to 68% of data is not analyzed in most organizations.
Owing to head-spinning advances in computing capacity, smarter algorithms along with affordable storage are being employed to weave together data into the fabric of future-facing businesses.
Today the success of digital businesses hinges on modern and effective data and analytics. Organizations that fail to utilize the accumulated data assets are likely to be left behind. A precise data-first strategy is vital for the success of data and analytics investment. Industry leaders must consider ways to ensure the quality of the data, data governance, and data literacy in their organizations. The organization's renewed interest in reflecting on what can and should be done is empowering them to accomplish their data-first goals as well as equipping them with data strategy alignment to achieve business objectives.
Read more: A Brave New World – Fascinating Real-Life Applications of Data Analytics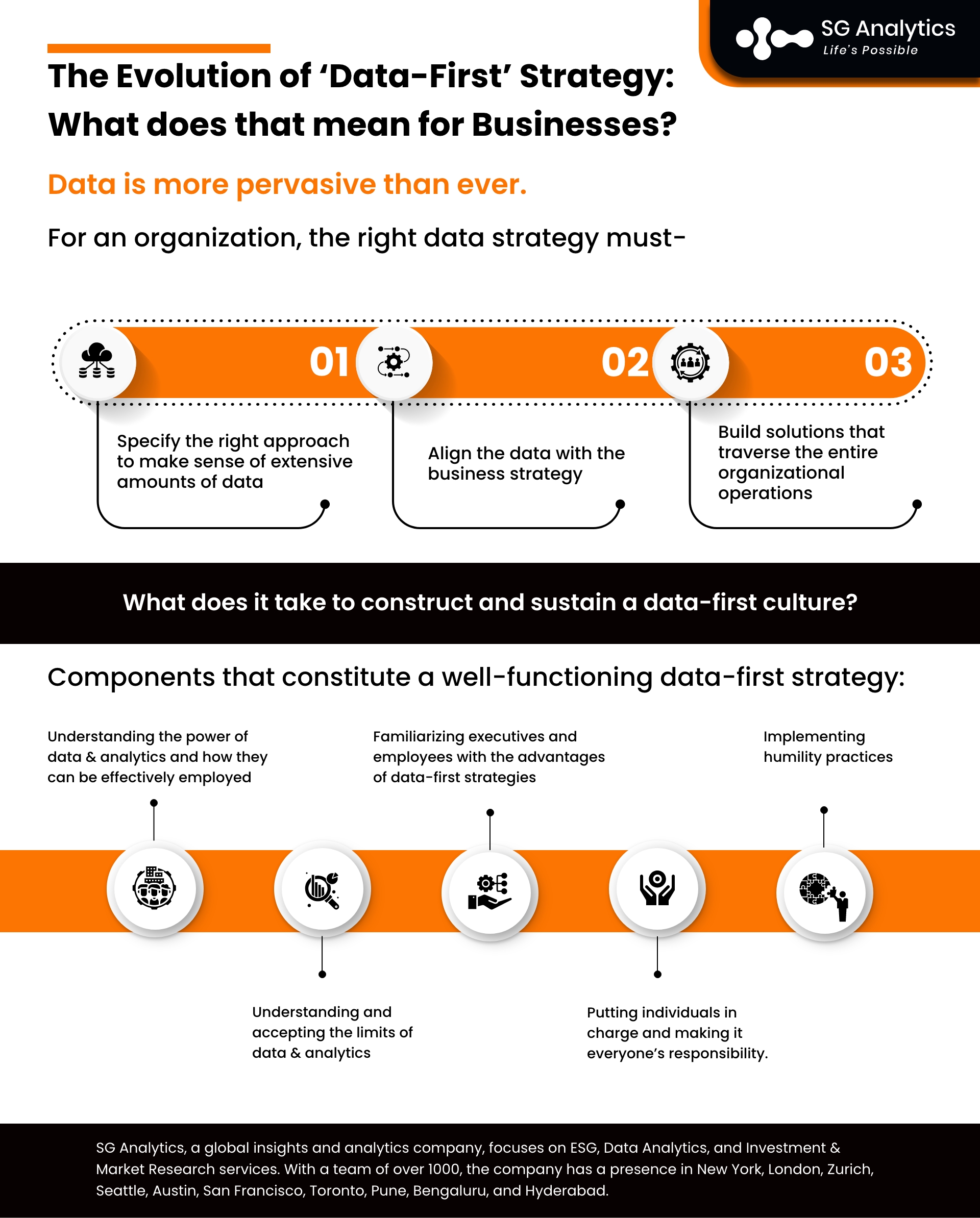 To Sum Up
The evolution of technology, along with cloud and analytics—and what it signifies for data use — is changing quickly, making it easy to fall behind if an organization's data strategy and related processes are not frequently revisited.
From multi-cloud to multi-data and multi-technology, the world today is evolving on a multi-dimensional landscape. Today's data management approaches are not limited by traditional constraints such as location or data patterns. With the right data strategy and architecture, businesses can access diverse data types in different places in a self-service manner. Along with innovative tech, including machine learning (ML), artificial intelligence (AI), or IoT, the derived insights are sophisticated and valuable, particularly when woven into the organization's workflows.
Regardless, the core principles of a data-first strategy remain the same. The 'how' in data operation is now dramatically changed in this new data and analytics landscape as successful organizations are readily adapting to the change when revisiting their data strategies.
In today's data-first strategy, architectural patterns, including data fabric and data mesh, are playing a relevant role by enabling technological platforms like hybrid multi-cloud. For businesses to gain a competitive hand, they need to incorporate components to review their data strategy based on the opportunities proposed in this new multi-dimensional landscape. They must be prepared for the change.
With a presence in New York, San Francisco, Austin, Seattle, Toronto, London, Zurich, Pune, Bengaluru, and Hyderabad, SG Analytics, a pioneer in Research and Analytics, offers tailor-made services to enterprises worldwide.
A leader in Data Analytics, SG Analytics focuses on leveraging data management & analytics and data science to help businesses discover new insights and build strategies for business growth. Contact us today if you are looking to make critical data-driven decisions to prompt accelerated growth and breakthrough performance.