On November 1 and 2, more than 100 world leaders representing almost 200 nations, and many more private organizations, gathered in Glasgow, UK. It was the 2021 United Nations Climate Change Conference. More commonly, however, the conference is referred to as COP26—or the 26th Conference of the Parties.
The goal of the Climate Change Conference is to negotiate a deal that describes the participant nations' plan of action to halt and reverse climate change. The deal involves making several pledges—ideally increasingly ambitious every year—to fortify the collective response against climate change. Did COP26 produce such a deal—a deal that would accelerate the world's climate action?
The conference officially began on October 31 and ended on November 13, spanning two weeks. In those two weeks, the world's most powerful leaders held high-level discussions on the inadequacy of current climate policy and what ought to change if we wish to achieve the goals outlined in the Paris Agreement. The result is, at best, a compromise.
Optimists might cite the ambitious pledges and the giant wheels turned by the world's largest emitters of greenhouse gases, such as India. However, pessimists argue that the commitments—like those made in 2009 and 2014—are vague and unattainable. One may view the conference as a call for hope, no matter how grim. Another, however, may view it as nothing but an exercise in PR.
COP26 at a glance
One of the world's youngest and fiercest climate activists, Greta Thunberg, summarized COP26 as "Blah blah blah." However, COP26 established several interesting points and agreements. The goal—as agreed in Paris—is to limit global temperature rise "well below 2 °C" or, in the best circumstances, below 1.5 °C, by 2100.
However, according to reports by the UN, International Energy Agency, and Climate Resource, current climate policy will fail to help us achieve that goal. In fact, by current standards, global temperature is projected to rise by 2.4-2.7 °C by 2100. That is, beyond any doubt, a climate catastrophe.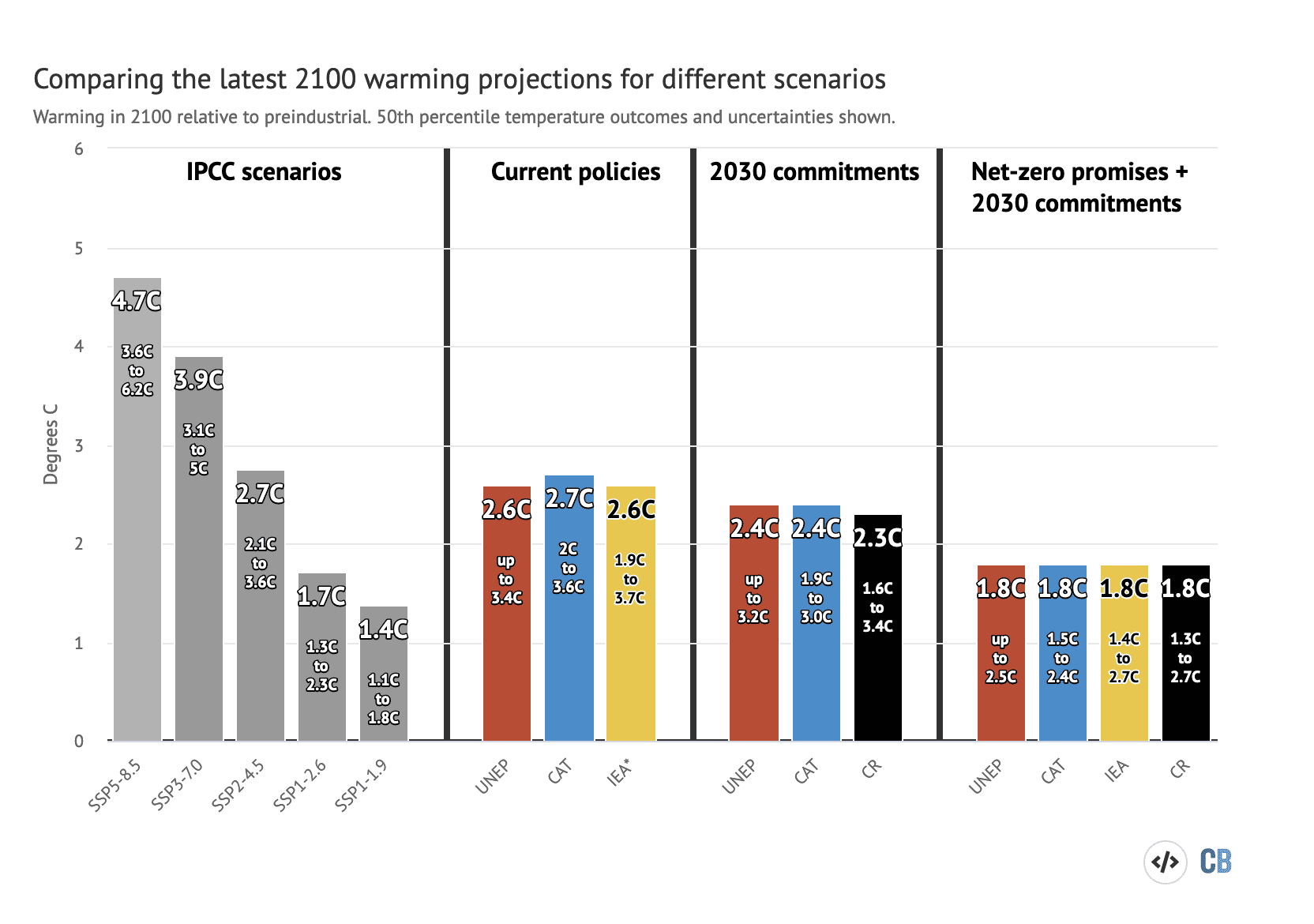 While the US, the European Union, and even China have committed to achieving net-zero emissions by 2050 and 2060, we must act now. At COP26, therefore, members set targets for the next decade. Here's what they have committed to achieving by 2030.
1. Deforestation
Deforestation is one of the biggest contributors to climate change. Trees are cut down for lumber, rubber, and a great variety of resources. But forests are primarily cleared for construction and livestock.
Cleared, in fact, is an understatement. According to an estimate, over 30 football pitches' worth of land is cleared every minute. And that's excluding the umpteen forests destroyed by wildfires. Those trees would have absorbed plenty of carbon dioxide—the number one cause of global warming—and deforestation henceforth must be put to an end at all costs.
Read more: "Code Red for Humanity": IPCC Publishes Starkest Assessment Report Yet
Leaders representing more than 110 countries and more than 85% of the planet's forests agree and have committed to stop and reverse the effects of deforestation by 2030. The commitment is the biggest ever for land conservation, backed by over $19 billion from private and public organizations.

The organizations have pledged to use the funding to make the supply chain of forest commodities more sustainable. The organizations have also pledged to distributing a share among developing countries to fund adaption initiatives—restoring damage and preventing wildfires, for instance.
The problem is, a similar pledge was made in 2014. However, deforestation was not curbed in any meaningful way whatsoever. What's more, even if nations make the commitment and claim to have fulfilled it, there exists no independent committee that can confirm their claim.
2. Coal
Coal is the biggest contributor to global warming, and it simply must go.
Of course, it's not that simple. And that was confirmed by the fact that only 40 countries pledged to do away with coal by 2030. Even among those 40, India, the United States, and China, were absent. The three happen to be among the world's three most prominent users of coal energy.
Coal persists because it employs millions of people and generates billions in revenue. Removing coal could destabilize an economy and put many out of jobs. But that's because public and private organizations are reluctant to re-train those employees and introduce renewables into the economy strategically. Basically, the world's coal producers (oil and gas, too) oppose the agreement. Even as late as 2019, when the threat of climate change was well-known, over 36% of the world's electricity was based on coal.
Read more: 8 Million More: Fighting Climate Change Will Increase Energy Jobs by 50%, Study Finds
We have the technology to replace coal—at least the developed nations do—but we lack the implementation. Still, there is hope. Major emitters such as Poland and Chile have joined the agreement, and India and China may soon follow.
Or, well, maybe not. The compromise in the Glasgow deal many refer to was replacing the phrase "phasing out" with "phasing down" when discussing coal production. The deal had been all but finalized when India and China reportedly intervened at the last minute and insisted on the change. The move has been heavily criticized but is still welcomed. It is a step forward, nonetheless.
3. Methane
Over 100 countries have agreed to reduce the emission of methane by 30% by 2030. Methane is a potent greenhouse gas and makes up a third of total emissions. It is produced by livestock, gas and oil wells, pipelines, and waste disposal.
That said, like coal, the Global Methane Pledge has some notable absentees—India, China, Russia, to name a few.
4. India grabs the headlines
All eyes were on major emitters. And while China and the US made waves when the two agreed to boost climate cooperation, it was India that grabbed headlines worldwide.
At COP26, India was the only major emitter to set a new Nationally Determined Contribution (NDC). Its prime minister, Narendra Modi, announced India's intention to generate half of its electricity from renewables by 2030 and, most importantly, achieve the goal of net-zero emissions by 2070.
Read more: 43% Of the World's Largest Companies Struggle to Drive Sustainable Growth. Here's Why
India is both a major producer and consumer of non-renewable energy. If India manages to achieve the targets, the gap between projected temperature rise and desired temperature rise is expected to reduce dramatically. The targets, therefore, are overly ambitious and a massive step forward. Especially given the fact that India is still a developing nation and has not reached peak emissions.
That said, India only announced its intention, not its plan, to become a net-zero emitter. India did not even announce which emission it would neutralize. Many argue that India intends only to offset carbon dioxide, not all greenhouse gases. Would it also become a net-zero emitter of methane? It's not clear.
5. Climate finance
In 2009, rich countries agreed to give poor countries $100 billion every year from 2020 as climate finance. According to the most recent data, the figure stands at just over $80 billion. In fact, Oxfam claims that the actual sum is even lower. Much lower.
Read more: The Wealthiest Nations Pledged to Give $100 Billion as Climate Aid. In 2021, They Aren't Even Close
Climate finance has been a disappointing failure, and poor countries have every right to feel cheated. Unlike rich countries, they lack the infrastructure to cope with the ill effects of climate change, such as floods, droughts, and heat waves—ill effects for which rich countries are primarily responsible. Poor countries also lack the technology and resources to innovate in renewables and mitigate future catastrophes.
Rich countries need to be accountable and give. And over 400 financial organizations agree. At COP26, the $100 billion deadline was extended to 2023. Moreover, countries have pledged to not only fund mitigation and adaptation initiatives, but fund both equally. Here's what's essentially promised: clean growth, jobs, and innovation—affordable and accessible—across energy, transport, steel, and agriculture, among other sectors.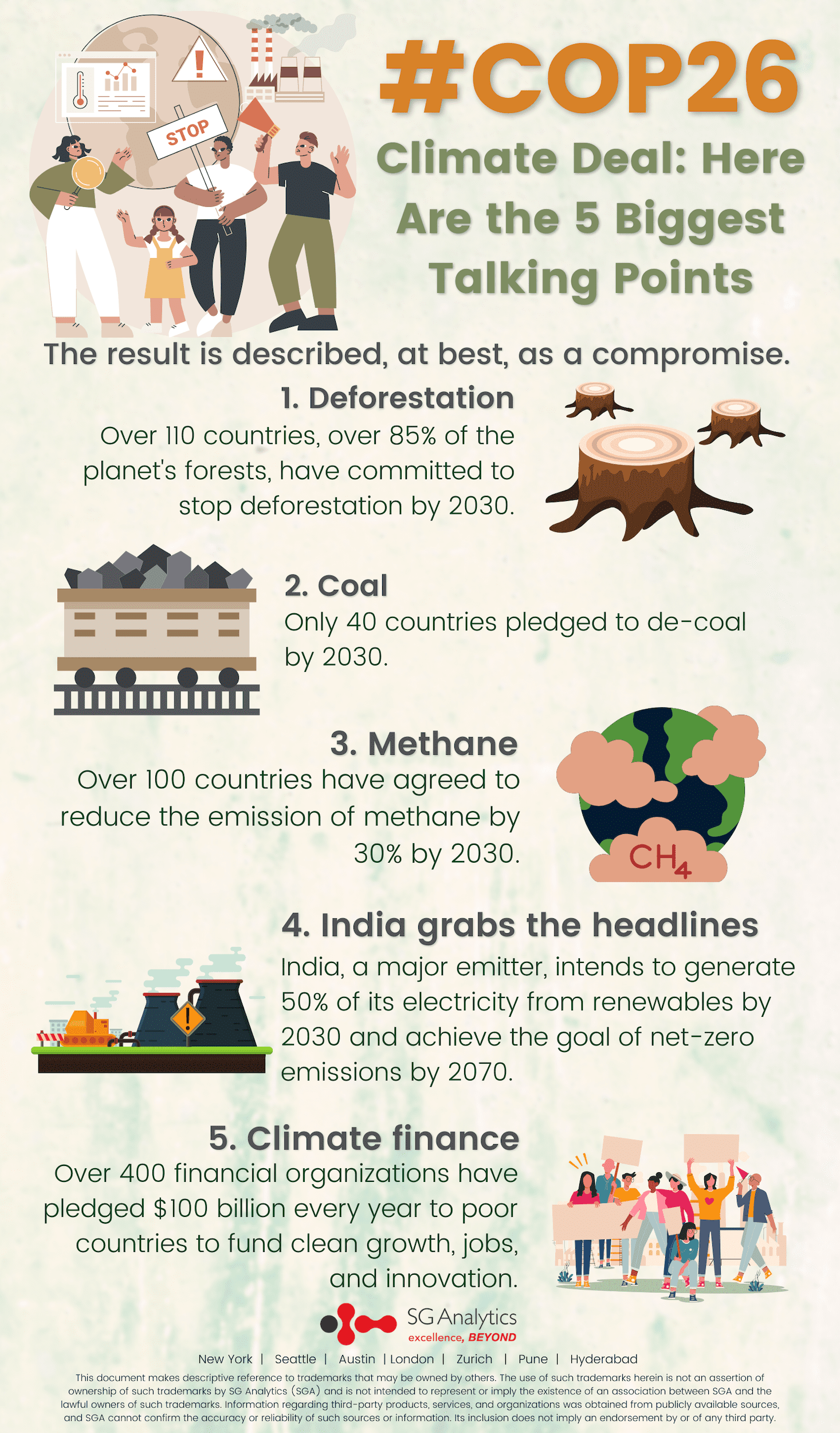 The promise would entail incentivizing no/low carbon and disincentivizing carbon. Carbon markets are an example. But rules have historically been vague and fines low. Let us hope that is about to change.
Read more: "Double the Emissions Reductions": Could Carbon Markets Avert the Climate Crisis?
COP26 was especially historic given that it took place against the backdrop of a pandemic, record-shattering heat waves and wildfires, and the first patient diagnosed with "climate change." It felt urgent.
The 27th summit of the Conference of the Parties, or COP27, will take place next year in Sharm El-Sheikh, Egypt.
With offices in New York, Austin, Seattle, London, Zurich, Pune, and Hyderabad, SG Analytics is a leading insights and analytics company that provides tailor-made services to enterprises worldwide. If you are looking to make critical data-driven decisions, decisions that enable accelerated growth and breakthrough performance, contact us today.