Technology has made our lives easier. Be it simple technology like the wheel, or a complex tech like a combustive machine, both possess the ability to perform their actions more efficiently and with ease.
But does the same apply to wearable technology?
How will wearables tech affect the industry?
Will wearable technology alter our perspective on healthcare?
While these are big questions, their answers are just as big.
With the disruptive technology now invading the consumer markets, wearables are demonstrating their potential for efficiency. They possess the ability to streamline how healthcare professionals operate and serve their patients while offering greater efficiency to numerous industrial and commercial applications. Most drugs are expected to work on just 30-50% of patients. But with algorithms, healthcare professionals can turn the reams of data from wearables into bespoke prescriptions and diets for a cure.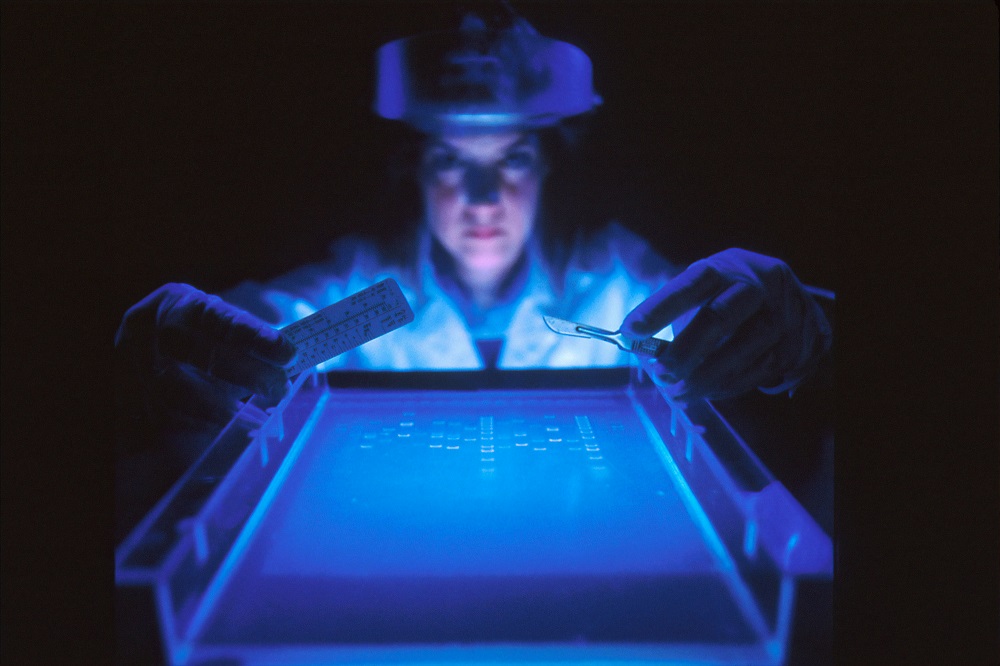 The Rise of Wearable Tech
Starting from early diagnosis, wearables can identify subtle changes that otherwise go unnoticed. This is one of the leading factors that will assist healthcare professionals with identifying the symptoms and proposing inexpensive treatment.
Sensors will assist in revealing if an older patient's balance is starting to weaken. People's gait and arm-swing change in the initial stages of Parkinson's. Strength exercises can be undertaken to prevent falls and broken limbs. The devices will also help enhance psychiatric diagnosis by tracking patterns of smartphone use without monitoring what people see or search.
Smartwatches, smart rings, fitness trackers, and a rapidly growing array of electronically enhanced straps, patches, and other wearables have the potential to record over 7,500 physiological and behavioral variables. Some of these devices are more useful than others.
Wearable tech like smart rings can help a woman conceive by predicting her menstrual cycle. It can also help in detecting pregnancy less than a week after conception (many women continue to drink or smoke for weeks before they realize they are pregnant). Smart tech offers a promise of seeing patients as individuals, not clones of the theoretical, average human.
Read more: Shopping, Playing, or Working: How Will You Be Spending Your Time in the Metaverse in 2026?
The Looming Drawback
Every tech innovation has its share of drawbacks. These wearables bring along with worries - about health care data, patient details, and health insurance. This data could be abused by device-makers, insurers, or governments. The greatest worry is not whether the technology will reach the people who need it most; the greatest worry about this wearable tech is that the bureaucracy of health care will get in the way. The first responsibility for powering the tech in safer hands lies with the market. Clinical efficacy and privacy are helping doctors, insurers, and governments to sort the good from the bad. And healthcare professionals will have a vital role to play.

The Blessings of Wearables
Wearables can help transform chronic diseases like diabetes. 80% of diseases can be prevented by changing the ways people lead their lives. By using small devices and clever tactics, ways can be incorporated to move more, eat better, and sleep soundly. Continuous monitoring also assists in shifting the balance of care from what doctors provide in the brief occasional office consultation to what patients can accomplish for themselves.
The scale of all this wearable tech promises to be vast. Wearables collect and create data, leading to innovation. Smartphones also serve as a platform for innovators. With wearables acquiring more features, users will be less likely to lose interest in them and put them away.
Technology is enabling healthcare professionals to monitor heart rate, heart rhythm, BP, oxygen saturation, temperature, and blood sugar levels at home. It also helps us to record our daily exercise and the calories burnt. All this can be done on a simple device- a wristwatch that can not only monitor the vital signs but also transmit them to the healthcare professionals on a real-time basis. These dives can also warn patients of an impending medical emergency.
Wearable technology is poised to revolutionize healthcare. The future of healthcare will be remote monitoring and healthcare delivered at the doorsteps.
For patients, the innovation in healthcare wearable devices is just getting started. Wearables and artificial intelligence look are set to reshape health care in big ways that promise to lower the costs of receiving treatments and increase the chances of saving lives.
Read more: Tech Forecast for 2022: Trends That Will Shape the Technology Landscape
The Tech That Has it all
The healthcare industry will have to establish rules to make data ownership and use more transparent for users to comprehend and control what happens with their information. The set standards can assist guide developers in producing usable devices.
Patients' data tied in the medical-record systems are often clunky. Practitioners will require treatment protocols on ways to use this new tech. Doctors will have to be trained and reimbursed for offering digital treatments and for reviewing the patient data. Governments and insurers will have to work on employing the technology in subsidized healthcare systems. With the rising popularity of wearable tech, it is now time for healthcare professionals and institutions to roll up their sleeves and prepare health care for an era of the quantified self.
What is the Future of Wearables in Healthcare?

Wearable technology will continue to grow and provide substantial benefits for patient care. By integrating improved biometric sensors into remote monitoring products, the healthcare can be conveniently worn by or applied directly to patients to enhance healthcare providers' capacities to conduct telehealth and home health care. It will also enable patients and their families to spend less time in hospitals for care as it can be delivered economically in an environment where the patient is comfortable.
Moving Forward
Wearable technology is bringing benefits to postoperative patients who have undergone surgeries like total knee replacement, cardiac bypass surgery, angioplasty, and other high-risk operations. These devices will remind the patients to take medications at periodic time intervals, participate in physiotherapy, monitor their physiological parameters, and even alert patients and clinicians when there are significant deviations in parameters.
The use of these wearables will permit healthcare consumers to analyze their biomarkers, receive digital assistance and benefit from their insurance plans. It will allow the medical community to employ biomarker analysis in remote prognosis and treatment. The wearable tech will lead to a huge paradigm shift in the healthcare industry from a sick-care model to a preventive-based model.
Read more: The Future of Healthcare: Top Trends to Watch Out for in 2022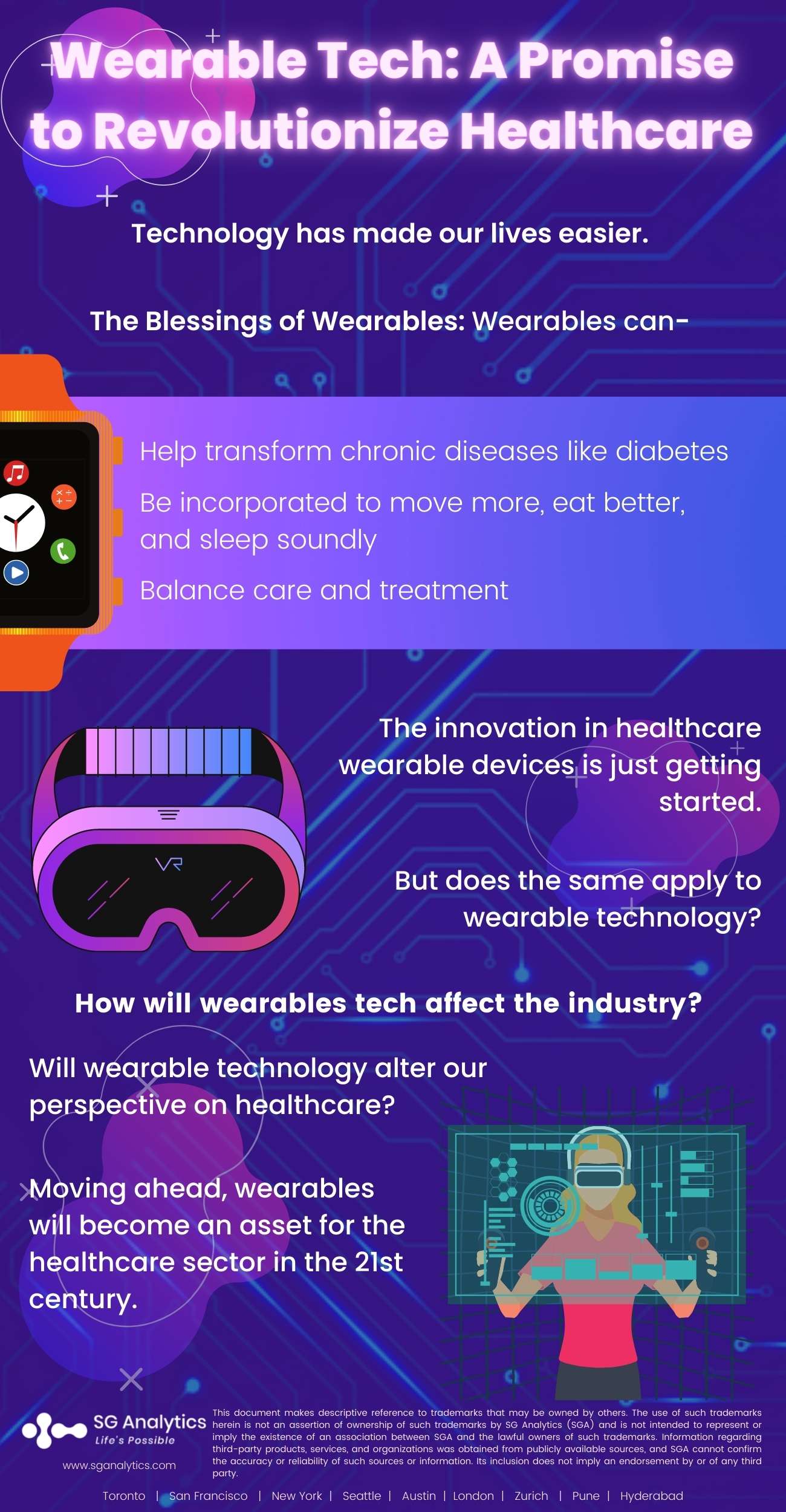 Conclusion
Many champion wearables and data-rich devices have revolutionized 21st-century medicine. These mass-marketed gadgets are likely to drift into obscurity like many technological trends. However, considering their continued popularity, amongst those who already maintain a watchful eye over their everyday lifestyle, health practitioners will have to prepare themselves for an inflow of patients who will bring wearable data to their next consultation.
This will generate additional chaos and anxiety for both practitioners as well as patients. The margin of error due to these wearables could be high if patients without prior medical training tires to attribute symptoms to a specific stream of data from devices. After drawing parallels with patient-obtained diagnoses via Google, less than 5% of surveyed health care providers felt that any Internet self-diagnosis was helpful.
The healthcare sector is a conservative industry. Yet it is slowly risking the uptake of digital medicine not because of legitimate concerns about safety but due to the inertia of regulators, standards bodies, insurers, and medical schools. Behavioral scientists and interface designers will also have to be onboarded to facilitate and develop more personalized, intuitive, and user-friendly systems for engagement and feedback.
With the frameworks in place, wearable devices can become an integral part of the healthcare systems, thus, in turn, kick-starting the development of validation programs that would sit alongside appropriate training for healthcare professionals. This proficiency and understanding could be conveyed to patients when the validated devices become standardized, thus facilitating both individual and aggregated data for patients, governments, and health care providers.
Moving ahead, practitioners and researchers will work together and build a constructive dialogue on approaches to accommodate these technological advances for wearable technology to become an asset for the healthcare sector in the 21st century.
With presence in New York, San Francisco, Austin, Seattle, Toronto, London, Zurich, Pune, Bengaluru, and Hyderabad, SG Analytics, a pioneer in Research and Analytics, offers tailor-made services to enterprises worldwide.
A leader in the Healthcare domain, SG Analytics is assisting healthcare companies to leverage the power of information. Contact us today if you are in search of efficient Healthcare solutions to make sound business decisions.