Translating customer interactions to drive customer loyalty can be a daunting task. Most organizations across different industries struggle to solve the puzzle of managing personalized, fast, effective customer engagement. Most companies are still organized around functions, products, industry, or solutions, and it is difficult to deliver great customer experience without pivoting to the modern customer-centric operating structure. Effective customer engagement involves encouraging customers to have continuous interactions and share experiences based on a preferred channel.
Optimizing customer interactions throughout the customer journey could lead to customer satisfaction and customer intimacy. This is particularly applicable to digital-only platforms or companies where there is a shift in the consumer sentiment toward faster serviceability, quick resolution of queries, integrated online-to-offline experiences, and the ability to envisage the product/service expectations based on multiple sources of influences (e.g. social media, e-commerce, etc.).
What Type Of Strategies Could Enhance Customer Engagement?
Personalized marketing and sales channel strategy for customer acquisition and retention
Content marketing and providing compelling information about the products
Invoking positive customer emotion and sentiment
Capturing feedback and re-engaging to reduce customer friction
Focusing on optimizing the path-to-purchase
Customizing decision and shifting the channel of engagement based on preference
Better organization of work and faster reaction/response
Developing insights from the cross-channel shopper/customer journey
Focusing on set of activities based on the customer buying journey
Gaining deeper insights to customer personas by using consumer journey analytics
Discovering shopping journeys, creating buyer personas, deriving actionable insights, and building an adaptive customer journey (connected physical and digital journeys)
Using customer analytics, operational analytics, pricing analytics, demand sensing, and forecasting
How to build a clear roadmap for effective consumer engagement?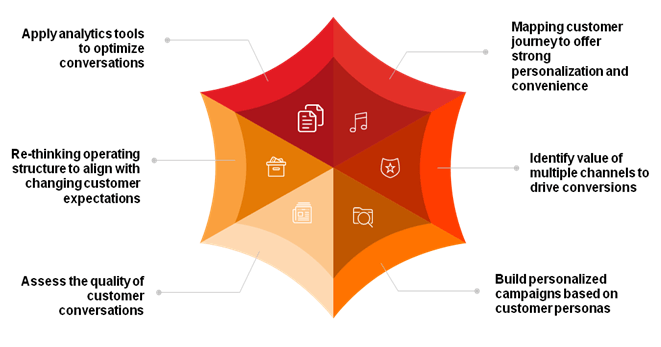 Map the consumer journey to offer strong personalization and convenience
Identify the value of multiple channels using consumer analytics to drive conversations
Prepare consumer retention strategies to win over customer trust and build long-term relationships
Build personalized campaigns based on consumer personas
Assess the quality of consumer conversations
Re-think the operating structure to align with changing expectations
Create a single view of consumer that spans across the consumer journey on different channels starting from acquisition through engagement
Apply consumer analytics tools to optimize conversations
Design the consumer engagement program for an effective consumer acquisition and retention strategy