As we now enter a new phase in 2023, it is time to look back on the achievements and setbacks that plagued 2022. It is safe to say that India stayed afloat during the pandemic, as the COVID-19 restrictions were eased, and things were getting back to normal. The Indian economy stood out for its resilience, as sectors such as manufacturing and services contributed to a robust workforce.
Yet, there were several roadblocks in the path. The depreciation of the rupee, looming concerns over the global recession, and geopolitical tensions all significantly triggered new challenges in 2022. With everything behind us, what does 2023 have in store?
What technologies will gain the most traction? What are the most important trends that businesses should keep an eye on?
Read more: Global Business Trends Outlook 2023
Metaverse will Transition into a Real-word Entity
Metaverse offers immersive internet where an individual can work, play as well as socialize on a persistent platform. Experts predicted that the metaverse is likely to add $5 trillion to the economy by the year 2030. And 2023 will be the year that will assist in redefining the direction of the metaverse for the coming decade.
Virtual reality (VR) and Augmented reality (AR) will advance further in 2023. And one significant area to look forward to is the work environment in the metaverse. This will help in creating a more immersive meeting environment where the employees will be able to talk and brainstorm together. Microsoft and Nvidia are developing metaverse platforms to collaborate on digital projects.
More advanced avatar technology will emerge in the new year. This presence in the metaverse will help in engaging with other users. Further development in AI-enabled autonomous avatars can also be seen as they will enable the representatives in the metaverse to experience the digital world.
Companies are already integrating metaverse tech like AR and VR to conduct training and onboarding sessions for their employees. And this trend will accelerate in 2023.
The Omnipresent Artificial Intelligence (AI)
In 2023, artificial intelligence (AI) will become the core part of an organization. With the easy drag-and-drop interfaces, no-code AI will enable businesses to leverage their power and create more intelligent products and services.
While this trend is already popular in the retail market, it is slowly advancing into other sectors as well. Contactless, autonomous shopping and delivery are some of the significant AI trends to look forward to in 2022. AI is making it easier for consumers to pay for or receive their goods and services. It will also augment every job across every business process in different industries. More retailers will integrate AI into their operations to manage as well as automate their complex inventory management processes.
AI will also be the engine that will support the newest autonomous delivery initiatives that retailers are rolling out, enabling more retail workers to get used to working with machines.
Read more: How are Organizations Modernizing their Data Security and Management?
Augmented Reality (AR) and Virtual Reality (VR) to Shape Education
What if students can visit a historical monument or civilization or learn about the earth's topography in the metaverse? India's education sector is pivoting to ride the digital transformation wave. And the pandemic propelled it even more. The education sector is transforming learning and teaching by integrating virtual classrooms.
With artificial intelligence (AI) and immersive experiences in VR, educational institutions can explain new concepts to students in a more seamless and experiential manner. With the metaverse, they can bring educators and learners from across the globe, where students can learn whatever they desire. To make the curriculum immersive and interactive, edtech companies are presenting new learning modules that integrate 3D assets and virtual reality.
Educational institutes are jumping on the bandwagon too. India's Central Board of Secondary Education in the year 2021 collaborated with Meta to explore applications of the metaverse in education as well as training. This new virtual platform will reshape education and overcome challenges related to biases, privacy, and cyber safety.
Blockchain to make Transactions Efficient and Transparent
In financial services, blockchain is being integrated for remittances and so for invoices, and invoice discounting. The health records can also go on blockchains. This will help in making healthcare more efficient. Blockchain-based registries can assist in cutting out spam calls.
While blockchain can be integrated into every sector, it would help in the efficiency, privacy, as well as security of citizens.
Blockchain's most famous use case in India is The Reserve Bank of India's digital rupee. It is beneficial in remote areas with electricity and network constraints. This blockchain-powered currency holds the potential to fuel inclusion and transparency in the payments space.
In 2023, blockchain will also bring more trust and transparency to the real estate space through immutable records and certificates.
Read more: Sustainability Outlook: Top Emerging Trends in 2023 and Beyond
IT companies will lead the Transition to Green Technology
One of the biggest challenges the world is tackling today is carbon emissions. It is time to put brakes on the rising issue to tackle the climate crisis. This has created a significant buzz around green tech in India. Investments in sustainable or green tech doubled to $10 billion last year. The estimate is expected to touch the $45-55 billion mark in the next five years. More and more tech corporations in India are doubling down on their efforts to design sustainable solutions, both internally as well as for clients.
The Indian IT services sector has a big role in supporting others to chart the path to sustainability. This included areas such as efficiency improvements, compliance, risk mitigation, and research and development. A recent Accenture research highlighted that cloud migrations could reduce carbon emissions by nearly 60 million tons a year, which is equivalent to taking 22 million cars off the road. As a leader in IT services, India can capitalize on creating a host of tools required for this green transition across industries.
Workplace Culture will Transition Toward Inclusivity
Securing a highly sought-after promotion and making it to the managerial level is a tough path. And every employee has faced or witnessed competition in the workplace. This cultural mindset will witness a complete shift as corporations will transition to incorporate inclusivity along with establishing healthy workplace practices for employees' mental health. A McKinsey study highlighted that every 4 in 10 working professionals today in India face burnout. And the worst hit among the working group is Gen Z. But what can be the prime reason for this condition?
The answer is a toxic workplace, the same report mentioned.
Contrary to the traditional workplace approach of suffering in silence, today, thanks to social media, working professionals are speaking out and voicing the challenging they face in the everyday work environment instead of just accepting the norms of work culture. To battle burnout, corporations are now measuring the output over input and introducing mental health awareness programs and training for their workforce.
Read more: Why Investing in Employees Enables Better Business Results?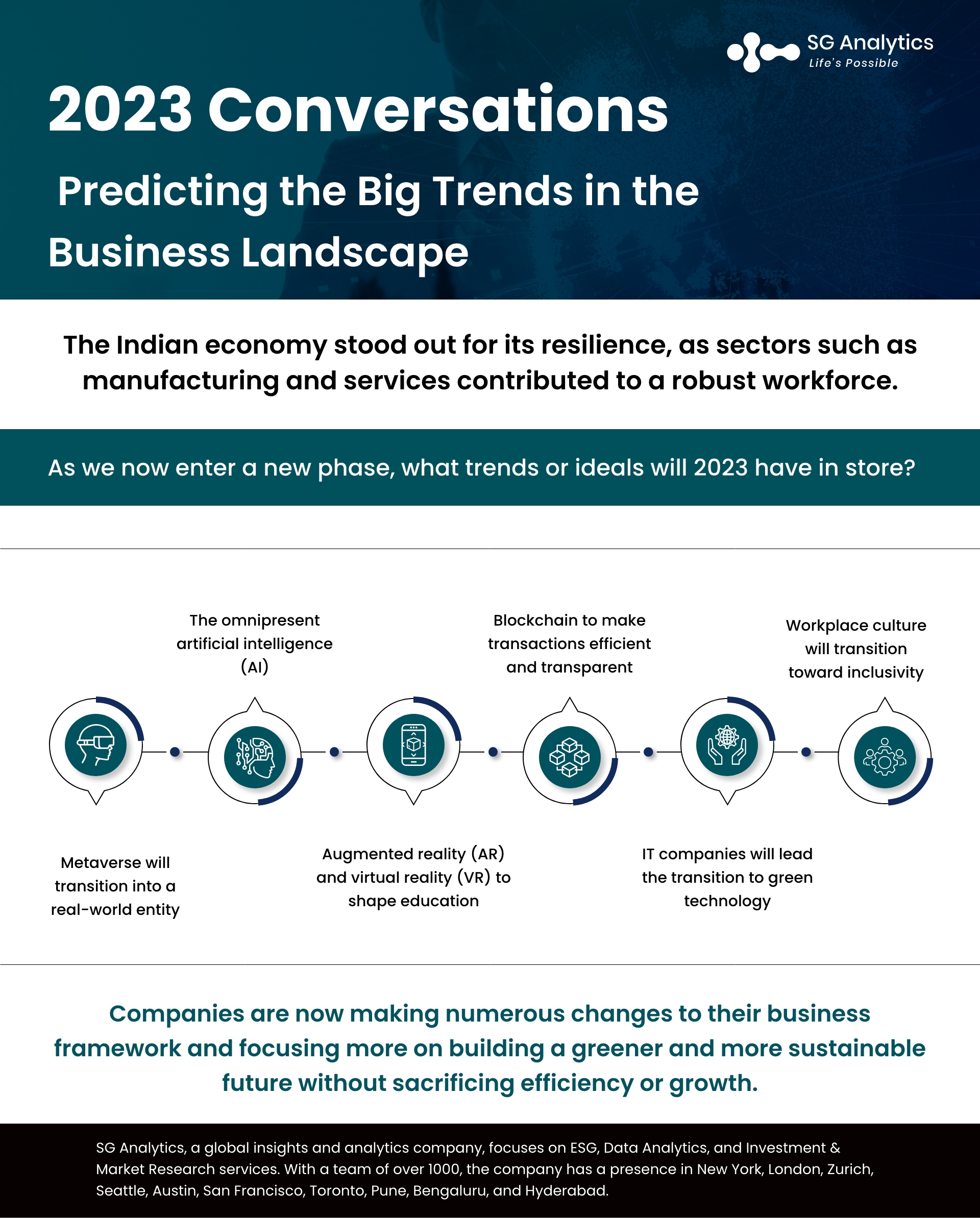 Final Thoughts
In recent years, industries have witnessed times of global instability triggered due to pandemics, geopolitical turmoil, inflation, supply chain crisis, etc. These challenging landscapes have resulted in an ideal time for businesses to change how they do business. It has presented them with a turning point to adapt to the new technological solutions and turn them into a competitive advantage.
Companies are now making numerous changes to their business framework and focusing more on reducing and tracking CO2 emissions, migrating to the cloud, along with optimizing and automating their processes.
Thanks to technological innovations, including AI, blockchain, cloud computing, augmented reality, and robotics, industries are now striving to build a greener and more sustainable future without sacrificing efficiency or growth.
With a presence in New York, San Francisco, Austin, Seattle, Toronto, London, Zurich, Pune, Bengaluru, and Hyderabad, SG Analytics, a pioneer in Research and Analytics, offers tailor-made services to enterprises worldwide.
A leader in Market Research services, SG Analytics enables organizations to achieve actionable insights into products, technology, customers, competition, and the marketplace to make insight-driven decisions. Contact us today if you are an enterprise looking to make critical data-driven decisions to prompt accelerated growth and breakthrough performance.