Marketing is a core aspect of business strategy, and hence businesses have every reason to get it right. A burgeoning, cutting-edge technology, AI now finds itself in use across all kinds of sectors. And marketing is not any different. According to Business Insider, over 51% of marketing teams admitted to relying on an AI tool in 2021.
The increase in the use of AI marks the trend of all trends in digital marketing post-2020. But it is how marketers worldwide used AI that informed our takeaways.
Marketing in 2021: 3 key takeaways
1. Tighter segmentation 
A few decades ago, marketing analytics companies would collect customer data to better predict their buying patterns. Once a profile was created, marketers could develop ads tailored or targeted for that unique profile. However, they lacked the computing power to process that data to find customer insights.  
That, of course, has changed. The vast troves of data coupled with tremendous computing power have engendered a new era of targeted advertising. While earlier, marketers would use five factors to create a profile (age, education, occupation, demographic, content channel), today, sophisticated AI tools may use more than sixty!
In fact, the tools will get cheaper over time, which means that costs will go down, while the magnitude of targets will go up.
2. Quality over quantity
Of course, every marketing manager understands that high-precision targeting is valuable in itself. However, targeting was more critical in 2021 because budgets had suddenly plummeted. The pandemic crunch forced marketers to make the most of their resources. Therefore, instead of sending email blasts, marketers took to targeting, in medium and message, only those leads that were most likely to convert.
That is what high-precision targeting leads to: personalized experiences.
Personalized experiences or simply personalization is a big part of what makes targeted advertising so successful. It is what makes your customers hooked to your product or service. All the big names — Netflix, Amazon, Disney, you name it — leverage personalization and the insights that come with it to attract, up-sell, cross-sell, and retain customers.

And personalization is here to stay. Especially as AI grows more advanced and targeting increasingly more precise. Why stop at personalized subject lines? Soon, even messages will become personalized.
It is becoming clear that if businesses wish to run sustainably, they must aim for quality, not quantity. 
3. 'Smart' marketing
AI's second most significant impact has decidedly been on productivity. In 2021, creating business reports, quarterly analysis, campaign progress, or trend insights manually is simply inconceivable. Today, highly advanced AI tools allow you to automate all secondary tasks, allowing you to focus on what you do best, on what is primary: working on the core business principles, customer retention, and what's the next big thing.
Read more:  The 7 Biggest Technology Trends In 2022
Of course, AI makes marketers more optimized and productive. But it goes beyond efficiency. It makes marketers distinguish between what is real work and what makes them merely busy. And that will be key to work in the new normal: redefining what work is and what it is supposed to be.
The challenges to marketing in 2022
Once again, it was clear that data is king. And data analytics is the future: the future of marketing, advertising, agriculture, manufacturing, logistics, entertainment, and even activism.
AI-led predictive analytics has made marketers more agile and adaptive to customer needs. It has enabled marketers to make more accurate forecasts. The two takeaways alone should be enough to convince marketers to adopt it in 2022. However, it does have its challenges.
Let's take a look.
1. Understanding data
It may seem that data analytics is ubiquitous, a worldwide phenomenon, but this is far from the truth. Many organizations still haven't adopted the practice of collecting data, let alone data analytics.
This is the number one challenge we face today: data literacy. In a world that is becoming increasingly data-driven, reluctance to embrace data could seriously damage prospects.  
Data analytics has made for significantly reduced costs, giant leaps in productivity, far more accurate marketing insights, and so much more. All in all, data analytics takes measurable inputs and yields actionable outputs. To miss out on it means to miss out on progress, on scalable growth.
Read more: Top 4 Skills That AI Won't Replace
Several reasons explain the reluctance: management inertia or the resistance to operational changes. Or perhaps, living in a society that has yet to prioritize computer science and data education and statistical analysis and the ilk.  
2. Lack of Infrastructure 
Or, simply, it could be the incapacity to store and process data.
What is the point of making cultural changes or promoting computer science, logical, critical and creative thinking, when the organization lacks the infrastructure to handle data in the first place?
The technology to compute basic data at a basic speed is fairly affordable. But data has been anything but basic lately. Its size is soaring, and so are the computing demands. Software is becoming increasingly complex; data increasingly various: text, image, video, voice, to name a few.  
Data analytics solutions, then, are a privilege. And that's the second challenge, to drive down costs such that it is accessible to everyone in the future. For today, data analytics is used not only to make a buck but also to bring change.
3. Ensuring data integrity 
Actionable insights produced by data analytics are only as good as the data fed to the analysis. The next challenge for data analytics is ensuring access to high-quality data.
One of the biggest assets of AI is its capacity for collecting and processing massive datasets. In fact, those datasets don't necessarily have to be of one kind. Future AIs will very well interpret words, images, audio, and video. The problem is, tools can only execute, not plan.
That is why data literacy is so critical: the education allows us to know what data is high-quality and what is not. Those better educated can develop better data pipelines, knowing what to collect and how to process.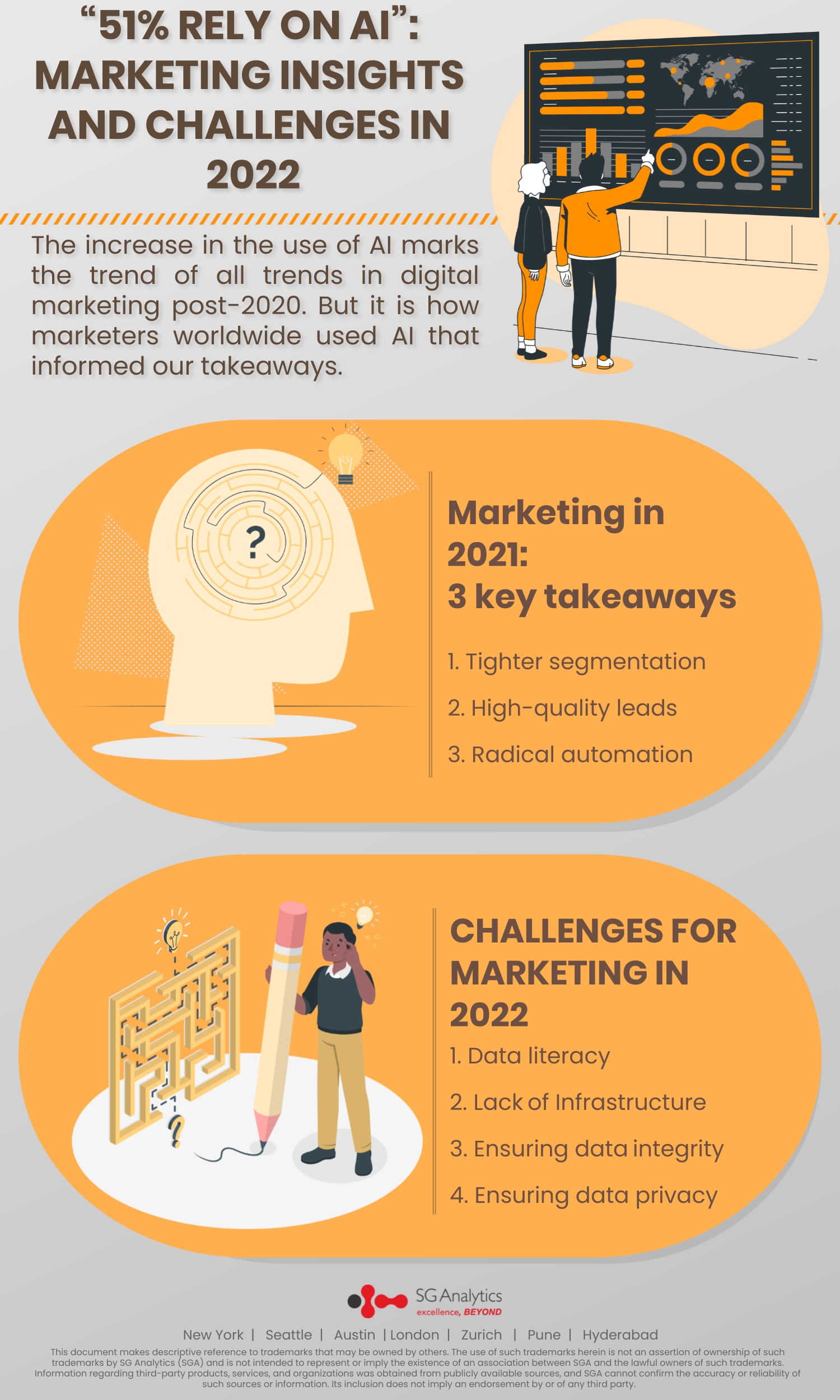 4. Ensuring data privacy 
Given that privacy is a core ESG value, how do marketers achieve the balance between leveraging customer data and protecting it? If data is the new gold, then it must be protected. In 2021, forgoing data privacy is not an option anymore.  
Organizations hire entire teams to monitor data systems in real-time to look out for hackers attempting to break-in. These teams boast towering expertise in authentication, segregation, and encryption software. However, data security goes beyond cyber-attacks. These teams also take additional measures to ensure that their data is always backed up, often in multiple systems. They make sure to prevent accidental data leaks, and that privacy — if promised — is always maintained.
Read more: "$1.72 Billion": How Alternative Data Is Transforming Investment Research
In 2022, we will witness more innovative technologies that disrupt marketing. And with them, of course, more new challenges.
With offices in New York, Austin, Seattle, London, Zurich, Pune, and Hyderabad, SG Analytics is a leading research and analytics company that provides tailor-made services to enterprises worldwide. If you're looking to make critical data-driven decisions, decisions that enable accelerated growth and breakthrough performance, contact us today.